Page 4 of 7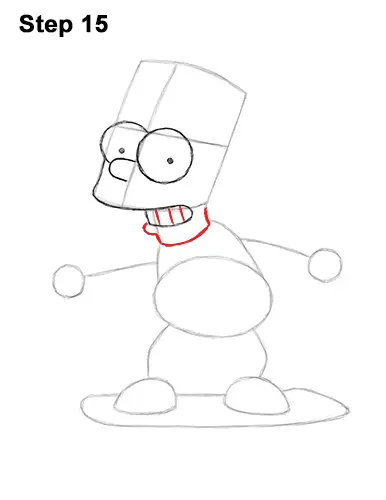 Step 15: Draw three small lines inside the mouth for Bart's teeth. Darken the lines under the head to create the neck. Add a bump on the left side for the lower lip.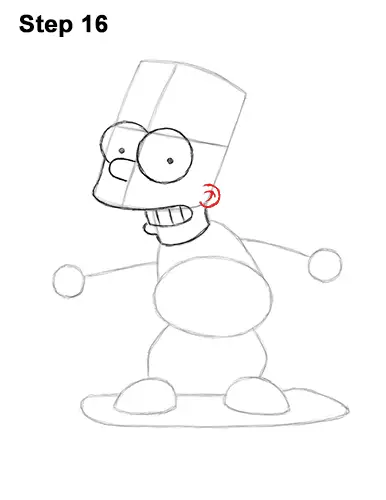 Step 16: On the lower, right side of the head, draw a small curved line for Bart's ear. The shape of the ear should be similar to a backward letter C. Add a couple of lines inside for detail.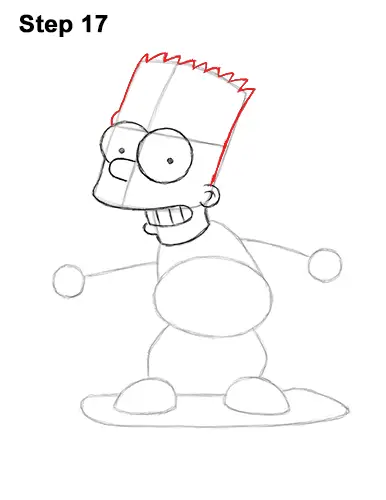 Step 17: Use the top portion of the initial lines as guides to draw the rest of Bart's head. Darken the left edge of the guide but give it an extra bump above the eye. Start adding the small, triangle-like spikes along the top edge of the guide for the hair. Bend the individual spikes slightly to the right to represent them blowing back in the wind. Bart Simpson has exactly nine spikes for hair. Draw three spikes to the left of the vertical construction line and six to the right. Now darken the right side of the guide to finish the shape of the head.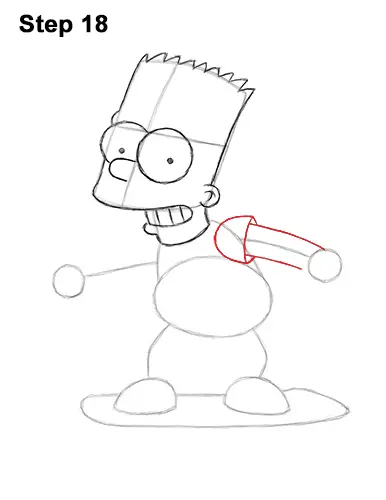 Step 18: On the top, right side of the body, draw the shirt-sleeve using a couple of curved lines. Sketch lightly at first to get the shape right. The sleeve should sit on top of the initial oval. The shape of the sleeve should be similar to a bell or half-circle. Now use the initial line as a guide to draw Bart's arm. The arm is made up of two lines parallel to the guide.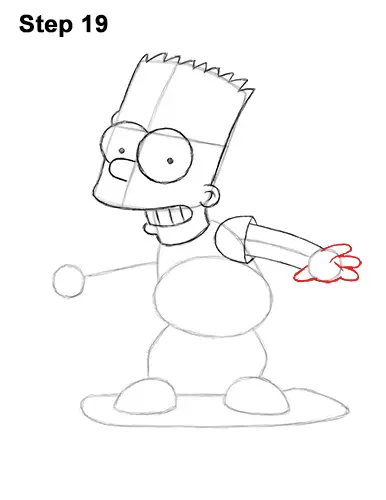 Step 19: Use the small circle on the right as a guide to draw Bart Simpson's hand and fingers. Draw the fingers as small curved lines along the outer edge of the initial circle. Draw the thumb on the lower, left side and three more digits on the top right side. Don't draw the finger too long. They should be short and chubby.