Page 2 of 5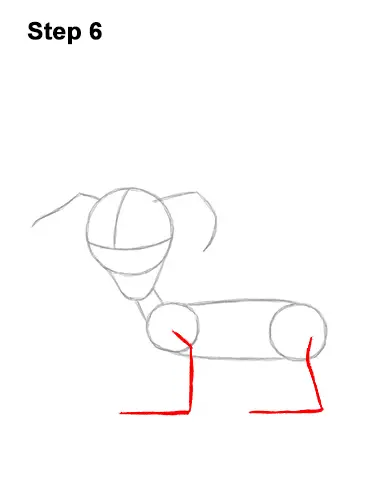 Step 6: Under each body circle, draw a long, angled line as guides for Max's legs. Pay attention to the lengths of the lines. The lines should be almost as wide as they are tall.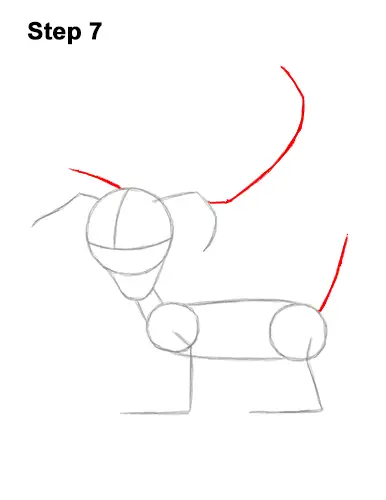 Step 7: On the top, right side of the body, draw a short vertical line as a guide for Max's tail. On the right side of the ear on the right, draw a very long line that curves up as a guide for the back of the antler. On top of the head, slightly off to the left, draw a shorter, sloping line as a guide for the front of the antler.
That's it for the guides! For the next steps, use darker lines for a more defined drawing of Max the dog from Dr. Seuss' How the Grinch Stole Christmas.
Step 8: Inside the head, near the left side, draw two ovals for Max's eyes. Draw the eyes on top of the horizontal guide line and on either side of the vertical guide line. Sketch the eyes lightly at first so that it's easy to erase if you make a mistake. Make the eyes a bit pointy at the top. When you get the shapes right, darken the lines. Make the eye on the right a bit bigger than the eye on the left because of the way Max's head is turned.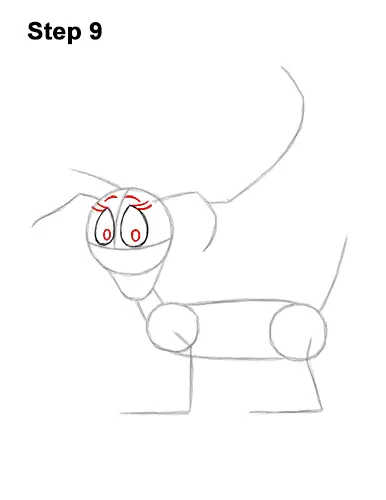 Step 9: On top of each eye, draw two short, curved lines for eyelashes. Inside each eye, near the right sides, draw a tiny oval for the pupils and shade them in. Don't shade in the pupils if you're going to color your drawing later because the pupils will be brown. Above the eyes, draw two short, curved lines for Max's eyebrows.