Page 5 of 7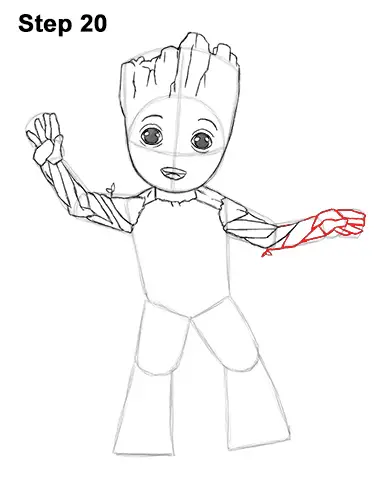 Step 20: Continue drawing the thin, long shapes into the forearm. You can add tiny leaves using a short line for the stem and a couple of ovals for the leaves. Now use the shapes at the tip to draw Groot's hand and fingers. As with the other side, start with the thumb. Draw the thumb as a wonky rectangle near the bottom, then add the other fingers starting at the top. Follow the path of the guide as you draw the individual fingers. The pinky at the bottom should be the smallest.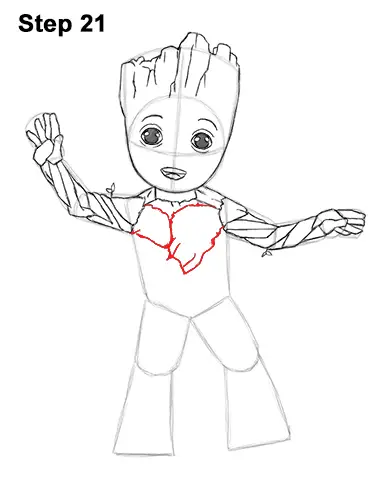 Step 21: Draw the chest by using the section under the head as a guide. Start by drawing a big shape on the right side for Baby Groot's bark-like chest. The shape doesn't have to be exact, but it should cover a big section of the torso. Add some lines inside. Add a smaller shape on the left side for the other side of the chest.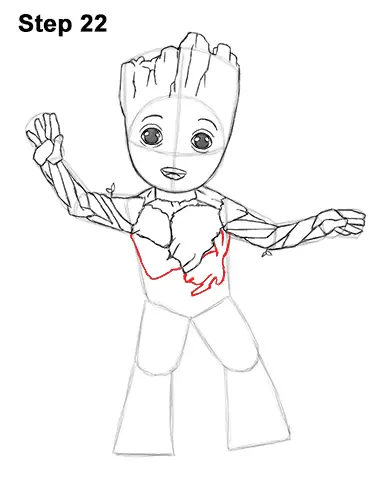 Step 22: Add another abnormal shape on the left side for more of the torso. Add another odd shape on the left within the initial guides. Remember, the shapes don't have to be exact. As long as Groot's face and the proportions are okay, then the shapes within the body shouldn't matter too much.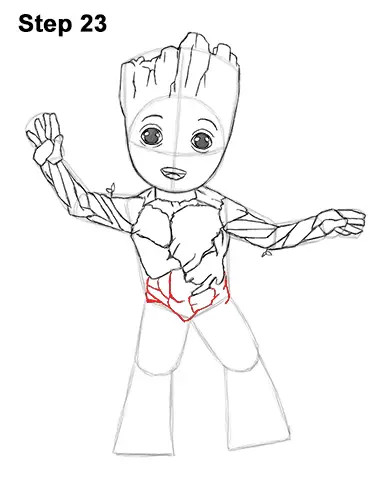 Step 23: Draw the rest of the torso within remaining space on the guide. Use the random shapes to fill in the section. Add lines on the edges for extra detail. The shapes within the torso should be bigger than the ones on the arms. Groot's torso is made up of big pieces of bark-like shapes that act as armor.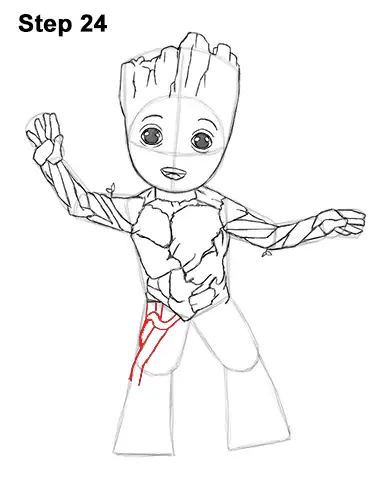 Step 24: Draw the first part of the leg on the left by using the initial U-shaped line as a guide. Use curved vine- like shapes within the guide to form Groot's leg.