Page 6 of 6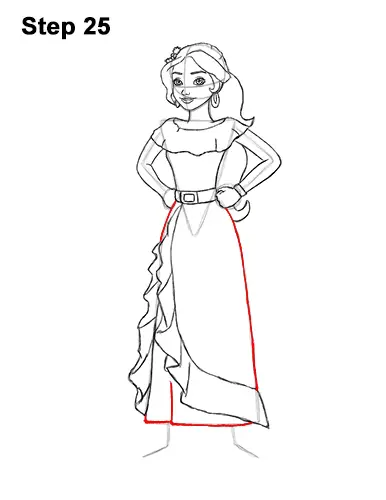 Step 25: Darken the side of the guides to create the rest of Elena's dress. Don't overlap the ruffles. Darken the bottom part too. Add a line inside the shape for the folds on the cloth.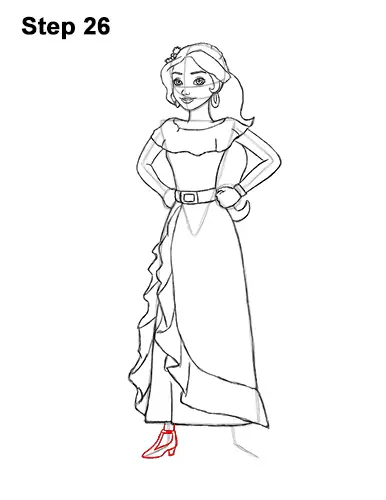 Step 26: Use the angled line below the dress, on the left side, as a guide to draw Elena's first foot. Draw a triangular shape around the guide. Sketch lightly at first to get the shape right. Make sure that the tip is pointy and add a small heel in the back. Inside the shape, draw a couple of curved lines for the fastener and the design.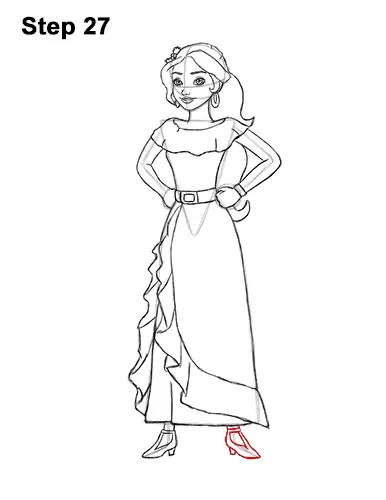 Step 27: Use the angled line on the right side as a guide to draw the other foot the same way. Follow the path of the guide and draw the shape of Elena's foot around it. Use curved lines inside the shape to add the fastener at the top and the design at the bottom. Sketch lightly at first and only darken the lines when you get the shape right. Add the heel near the back.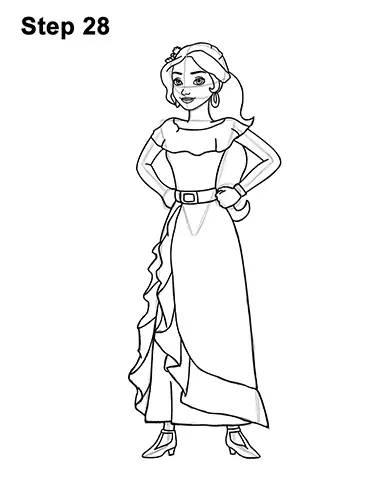 Step 28: For a more finished look, carefully go over the final sketch lines with a pen or marker.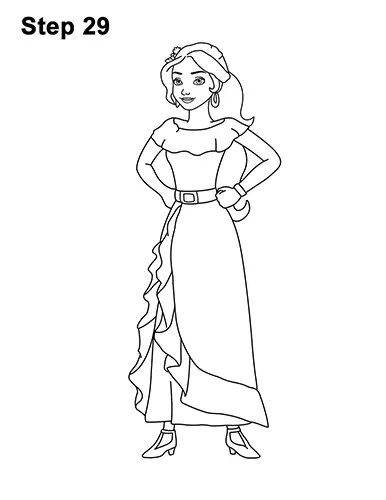 Step 29: After inking, get rid of every pencil mark with an eraser.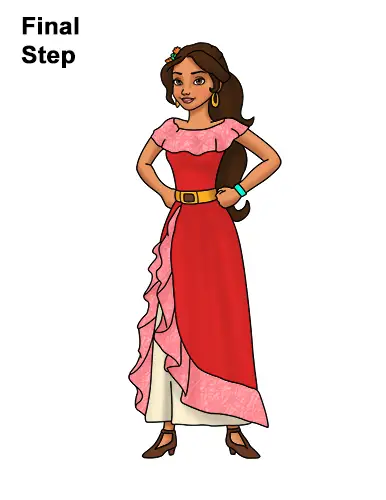 Final Step: Color your Elena of Avalor drawing using color pencils, markers or crayons! Use dark brown for the hair. Use orange and green for the flowers in her hair. Color her skin light brown. Using pink, draw a series of scribbles for the pattern on the frilly part of the dress. Use red for the rest of the dress and for her lips. Use brown for part of the belt, the shoes, her eyes and a bit on her skin to create shadows. Use yellow-orange for the earrings and belt, blue-green for the bracelet, light yellow for the slip and a bit of pink on Elena's cheeks.
Thanks for visiting! Subscribe to the EasyDrawingTutorials YouTube Channel for a new tutorial every Sunday.

To learn how to draw animals, visit How2DrawAnimals.com.
RELATED TUTORIALS