Page 4 of 4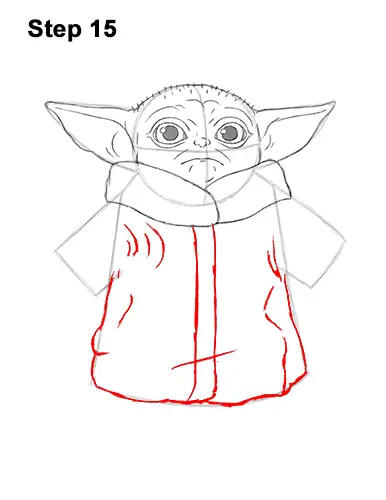 Step 15: Follow the path of the big guide under the head to create the coat. Make the lines wavier as you darken them. Draw a long, vertical line in the middle of the shape for the coat's opening. Draw a second vertical line across the middle of the shape for the coat's seam. Draw a few curved lines inside the shape for wrinkles on the coat.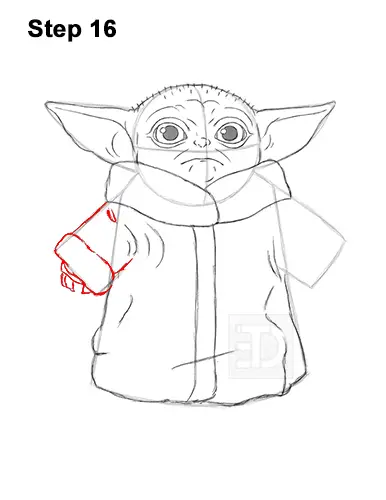 Step 16: Darken the shape on the left for the sleeve but make the lines wavier. On the end of the shape, draw a curvy rectangle for the coat's cuff. Add some lines inside for wrinkles. Draw a few short, curved shapes peeking from under the sleeve for Baby Yoda's fingers. Add tiny nails on the tips.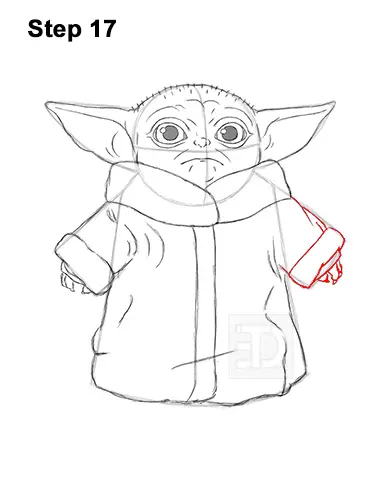 Step 17: Use the shape on the right as a guide to draw The Child's other sleeve the same way. Use wavy lines to darken the shape. Add a round, rectangle-like shape for the cuff and lines for wrinkles. On the bottom, draw a couple of short, curved lines for fingers. On the fingertips, draw tiny, triangular shapes for nails.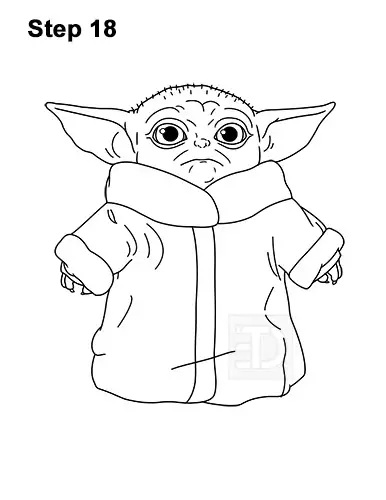 Step 18: Go over the final sketch lines with a pen, marker or any other type of permanent ink. Take your time and be careful when you ink to avoid any accidents. After the ink dries, get rid of every pencil mark with an eraser for a cleaner drawing.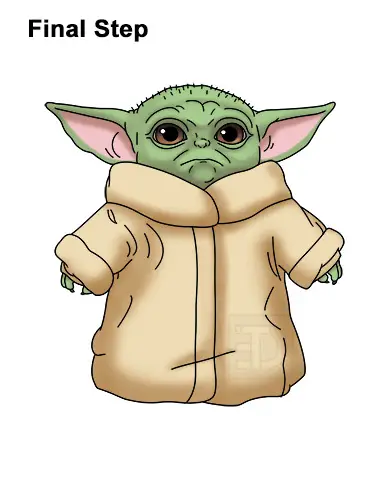 Final Step: Color your Baby Yoda drawing using colored pencils, markers or crayons! Use light green for The Child's skin. Use dark green to create shadows. Add the colors lightly at first and slowly blend them together. Add a bit of light brown to emphasize the shadows. For a simpler drawing, just use a single coat of green for the entire skin. For this Mandalorian character's eyes, use dark brown at the top and light brown at the bottom for a rounder look. Use pink for the inside of the ears with a bit of brown at the top for shadows. Use yellow or light brown for the base of the coat. Color lightly at first. Use brown and dark brown for the shadows on the coat and slowly push harder on your pencils to blend the colors. Don't forget to pause the video after each step to draw at your own pace.
Thanks for visiting! Subscribe to the EasyDrawingTutorials YouTube Channel for a new tutorial every Sunday.

To learn how to draw animals, visit How2DrawAnimals.com.
RELATED TUTORIALS