Page 4 of 4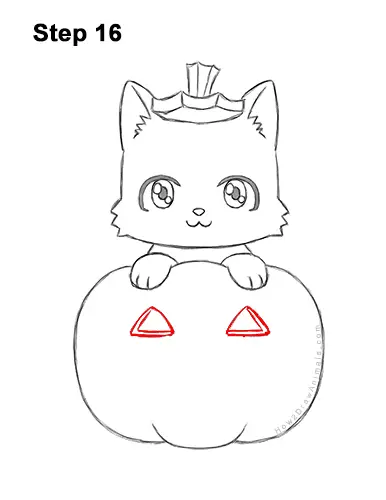 Step 16: Below the cat's paw on the left, draw a small triangle for the jack-o-lantern's first eye. Under the paw on the right, draw another triangle of similar size for the other eye. Draw a couple of lines inside each eye to give the pumpkin some thickness.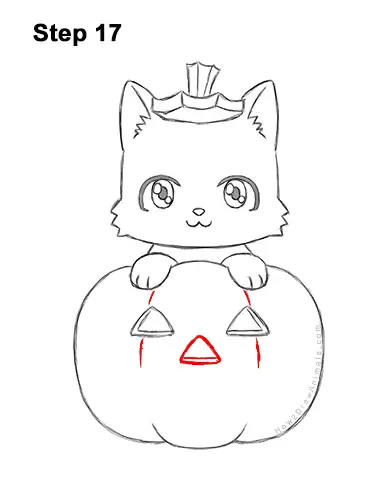 Step 17: Below the jack-o-lantern's eyes, draw another small triangle for the nose. Add some lines inside for thickness. Draw a line above and below each eye for the grooves on the pumpkin.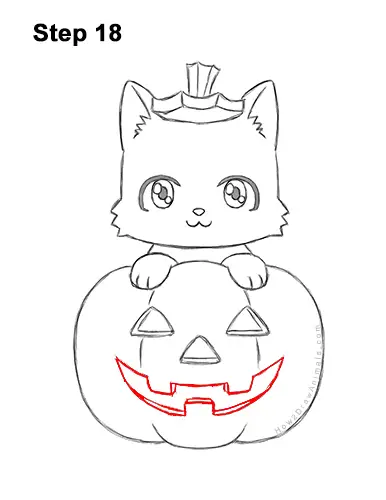 Step 18: Below the nose, draw the jack-o-lantern's big smile using a series of curved and angled lines. The top part of the open mouth is made up of a long curved line with square-like shapes on the sides for teeth. The bottom part of the mouth is another curved line but with only one square tooth in the middle. Sketch lightly at first to get the shape right. You can also use triangular teeth instead for a scarier look.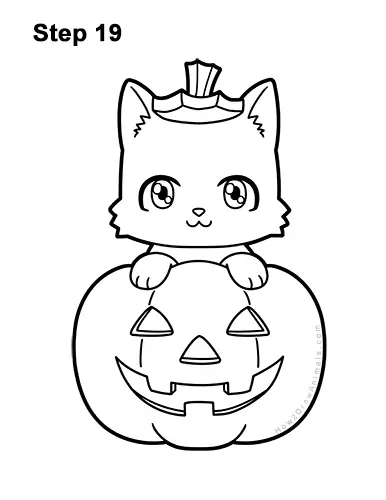 Step 19: Using a pen or marker, carefully go over the lines to make your black cat and jack-o-lantern drawing permanent. After the ink dries, get rid of every pencil mark with an eraser.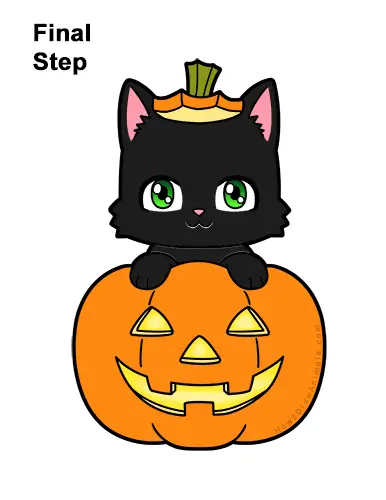 Final Step: Color your cat and jack-o-lantern drawing using color pencils, markers or crayons! Use black to outline the shapes of the cat's eyes. Color the rest of the cat black. Leave a small area around the mouth, neck and paws blank so they stand out. Use pink for the ears and nose. Don't smear the black into the pink.
Use dark green for the pumpkin's stalk and the top of the cat's irises. Color the rest of the irises yellow-green. Use orange for the main part of the pumpkin. Use yellow for the rest of the pumpkin. Don't forget to pause the video to draw at your own pace.
Thanks for visiting! Subscribe to the How2DrawAnimals YouTube Channel for a new tutorial every week.

To learn how to draw popular cartoon characters, visit EasyDrawingTutorials.com.
RELATED TUTORIALS