Page 4 of 5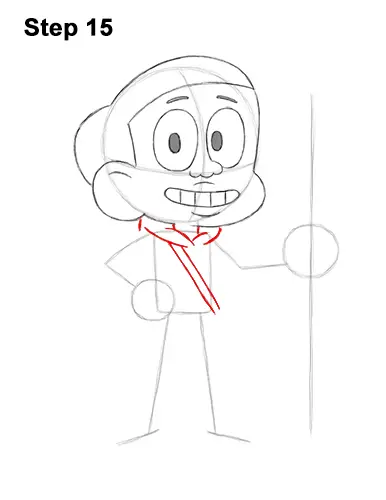 Step 15: Darken the small lines under the head for Craig's neck. Add a series of longer curved lines around the neck for the collar and hood. Across the torso, draw two long, diagonal lines for the satchel's strap.
Step 16: Use the angled line on the left as a guide to draw the first arm. Draw the shape of Craig's arm around the guide. Keep the lines close to the guide for a thin arm. Use the circle at the bottom as a guide to draw the hand. Darken the circle but draw a series of short, curved lines on the edges of the circle for the rolled-up fingers.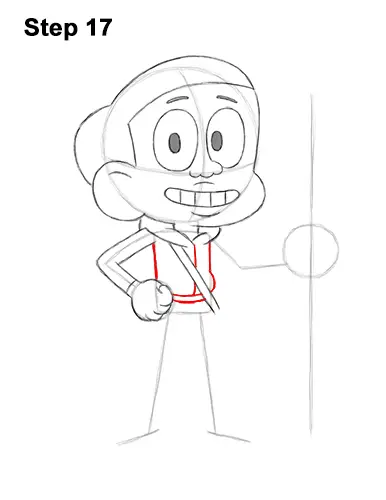 Step 17: Use the rectangle under the head as a guide to draw Craig's torso. Darken the sides of the shape but make the lower, right side bulgier. Add a line across the middle for the hoodie's zipper but don't overlap the satchel's strap. Add an extra line at the bottom for the belt.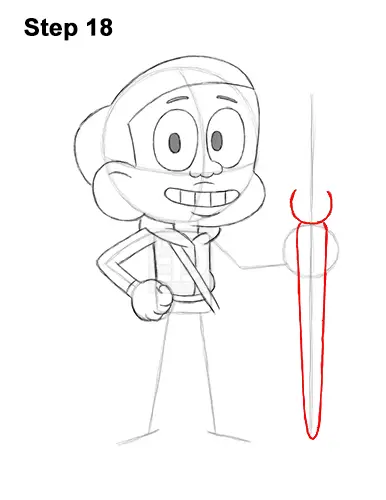 Step 18: Draw the bottom part of Craig's staff around the initial vertical guide line. Make the top part wide and gradually make the shape thinner toward the bottom. At the top, draw a half-circle for the middle part of the staff.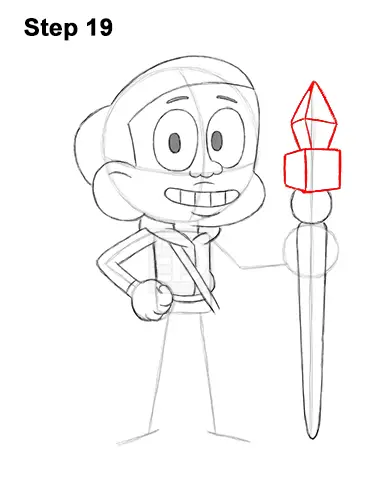 Step 19: Above the half-circle, add a small cube by first drawing three short vertical lines. Connect the lines at the top and bottom using short vertical lines. Above that draw a diamond using a few angled lines. Add a few lines inside the shape for detail on the diamond.