Page 7 of 7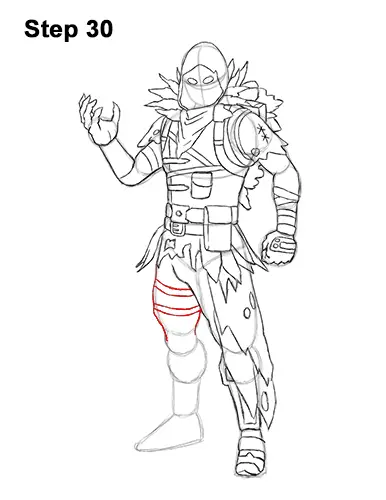 Step 30: Darken the guide on the left side to create the top part of Raven's leg. Draw a few curved, horizontal lines across the leg for a couple straps.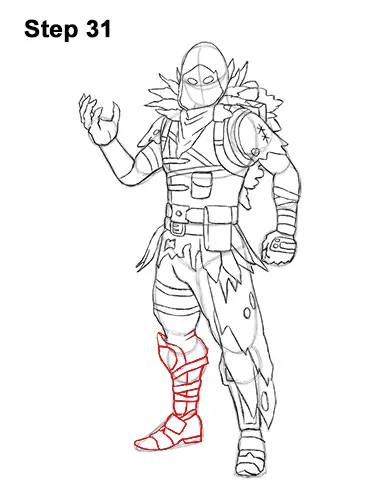 Step 31: Use the shapes at the bottom as guides to draw the rest of Raven's leg and foot. Draw an angled line to the left of the knee for the metal armor. Darken the outer edges of the guides. At the bottom, where the leg meets the foot, draw a small rectangle for another metal plate. Draw a series of diagonal lines inside the shape of the leg for the straps that hold the armor in place. Darken the shape at the bottom to create the foot pointing to the left. Draw some more curved lines across the foot for more metal plates.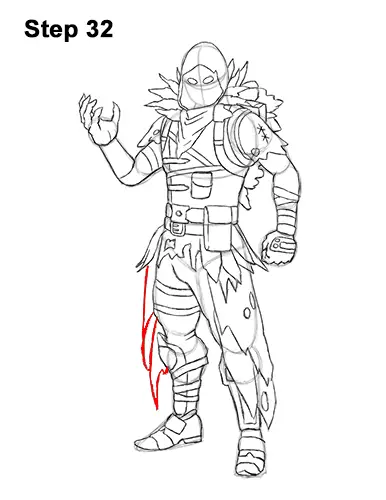 Step 32: On the left side, draw a couple of long lines that end at a point at the bottom for more of Raven's tattered cloth.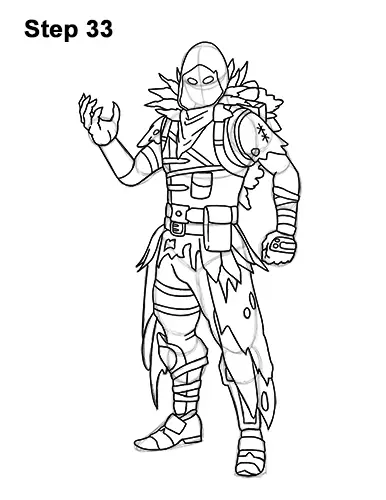 Step 33: For a more finished look, carefully go over the final sketch lines with a pen or marker. Try not to smudge the ink or graphite with your hand.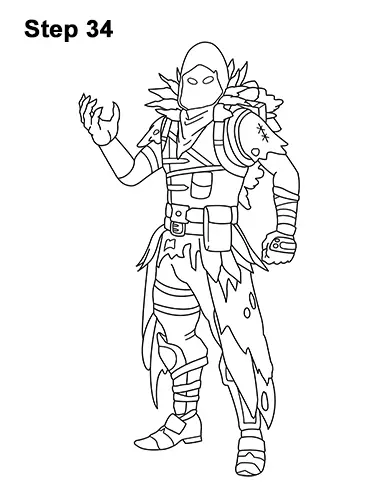 Final Step: After inking, get rid of every pencil mark with an eraser.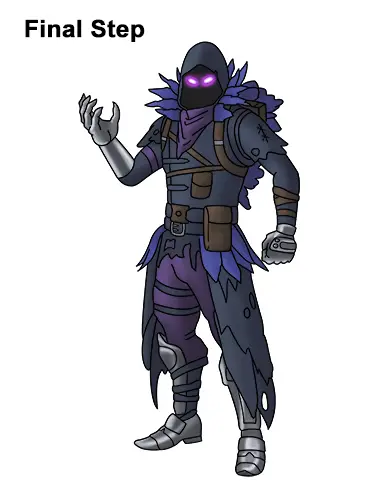 Final Step: Color your Raven drawing using color pencils, markers or crayons! Use purple around the eyes. Leave the insides blank. Use black for the inside of the hood. Don't overlap the purple on the eyes so that it represents glow. Color the bandana, the feathers and the pants purple too. Color the straps on Raven's chest brown. Use light gray for the metal armor on the hands and feet. Leave a few strips on the armor blank to represent shine. Use dark gray and black for the rest of the body. Use a bit of dark gray over the purple to create shadows.
Thanks for visiting! Subscribe to the EasyDrawingTutorials YouTube Channel for a new tutorial every week.

To learn how to draw animals, visit How2DrawAnimals.com.
RELATED TUTORIALS