Page 4 of 6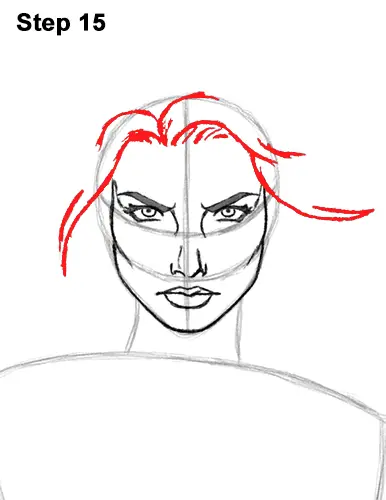 Step 15: At the top of the head, draw a series of wavy lines for the front part of Wonder Woman's hair. Draw the hair clump on the left as a couple of wavy lines that start at the top and slope toward the bottom. Draw the clump on the right the same way but curve the lines more. The tips of the hair should slope to the right. Leave enough room on the forehead for the tiara.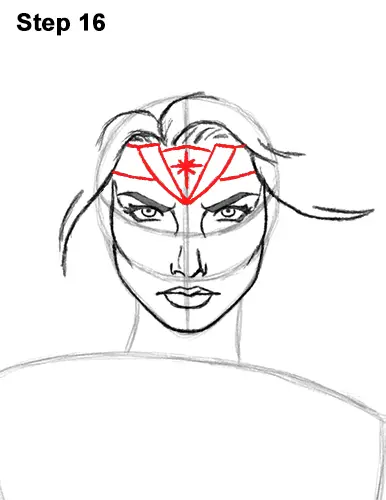 Step 16: Add a simplified version of Wonder Woman's tiara by first drawing a long, curved horizontal line at the top. Then draw a wide V-shaped line in the middle and the bottom of the tiara on either side. Draw another V- shaped line inside and the star emblem using a series of intersecting lines.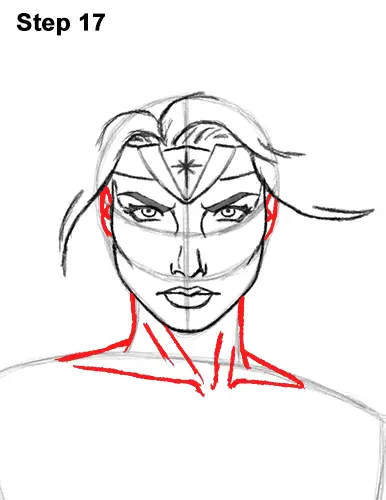 Step 17: Darken the lines under the head for the neck. Add sloping lines on the sides for the trapezius muscles. Under the chin, draw a couple of diagonal lines for the neck muscles. Under that, draw Wonder Woman's clavicle as two long horizontal lines. Use the initial lines as guides. On either side of the head, draw a curved vertical line for the visible part of the ears.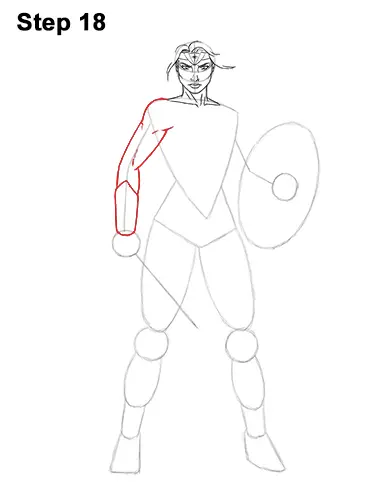 Step 18: Use the angled line on the left side of the body as a guide to draw Wonder Woman's first arm. Follow the path of the guide and lightly sketch the shape of the arm around it. Make the shoulder round and curve the lines to give the arm muscle structure. When you get the shape of the arm right, darken the lines. Add a few more short lines within the arm to emphasize the muscle definition. When you darken the forearm, add an extra angled line at the top for the bracelet.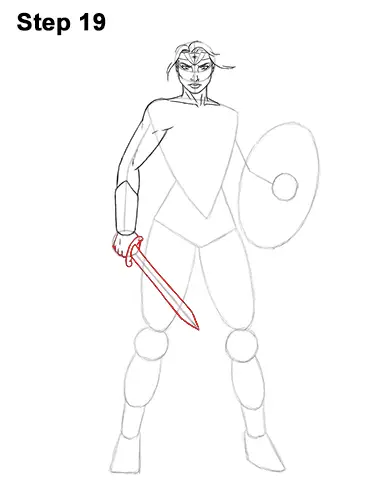 Step 19: Follow the path of the initial circle to create Wonder Woman's fist. Use curved lines at the bottom for the knuckles. Draw a couple of parallel lines around the initial guide to create the sword. You can make the sword as long as you want. Make the tip pointy. At the base of the sword, draw the crossguard using a couple of short, curved lines.