Page 4 of 4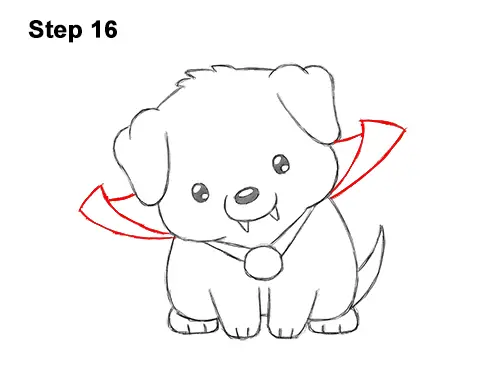 Step 16: Starting at the neck, on the left side, draw the vampire puppy's collar using a couple of curved lines. This shape should be similar to a thin, curved triangle. Add another triangle-like shape on the right for the other side of the cape's collar. Place this side of the collar higher up to conform to the tilt of the head.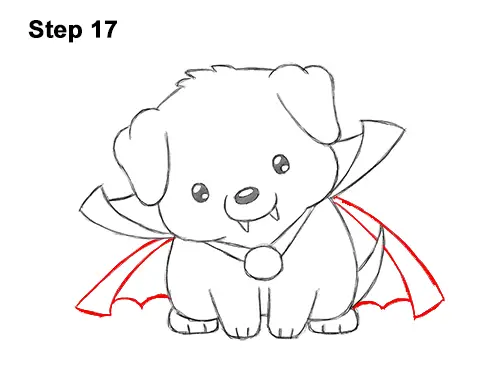 Step 17: On either side of the body, draw a shape similar to the collar (only upside- down) for the Dracula puppy's cape. These shapes should be similar to triangles, only longer, thinner and curved. The shape on the right should be longer because of the tilt of the head. Don't overlap the lines for the dog's tail as you draw the shape on the right. At the bottom, draw a series of short arcs for the cape's pointy lower edge.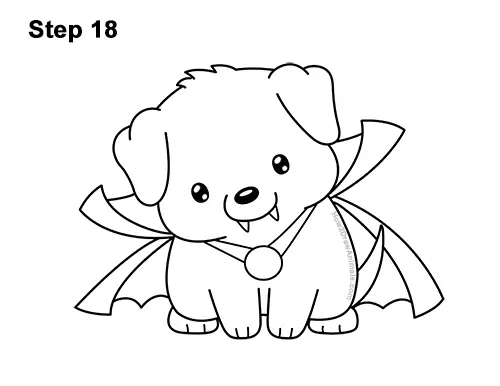 Step 18: Using a pen or marker, carefully go over the lines to make your vampire puppy drawing permanent. After inking, get rid of every pencil mark with an eraser.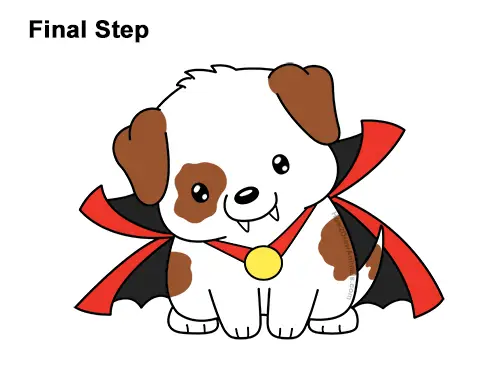 Final Step: Color your vampire puppy drawing using color pencils, markers or crayons! Use red for the outside of the collar and cape and for the medallion's straps. Color the inside of the collar and cape black and the medallion yellow. Color the puppy any way you like. Or leave him blank for a white puppy. For this look, use light brown for the ears and to add a few big spots on the body, including one over the eye.
Thanks for visiting! Subscribe to the How2DrawAnimals YouTube Channel for a new tutorial every week.

To learn how to draw popular cartoon characters, visit EasyDrawingTutorials.com.
RELATED TUTORIALS