Page 3 of 3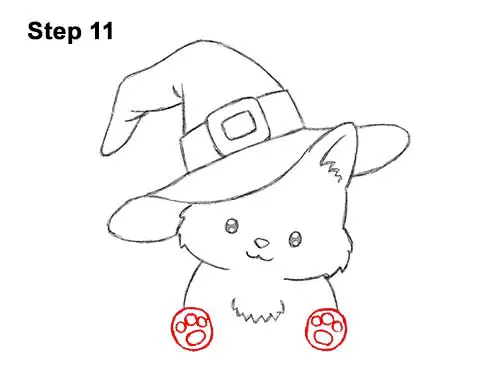 Step 11: Directly below each body line, draw a small circle for the feet. The bottom of the feet are facing front. Don't make these circles too big. Inside each foot, draw a series of smaller circles for the padding.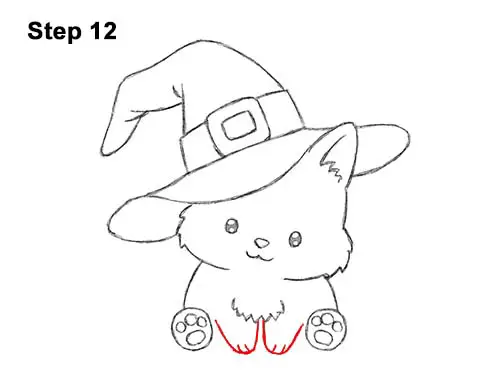 Step 12: Under the chest, draw two curved lines similar to the letter U for the front legs. At the tip of each leg, draw a couple of short lines to separate the witch cat's toes.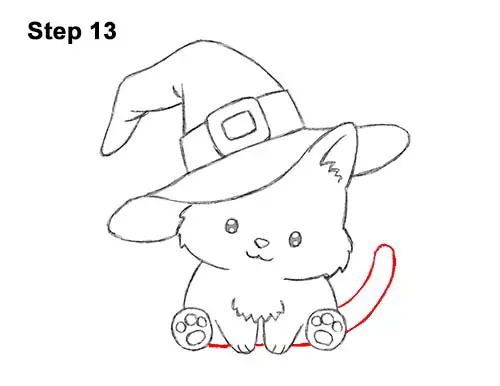 Step 13: On the right side, draw a thin, long, curved shape for the Halloween cat's tail. At the bottom, between the legs, draw a series of short lines for the bottom of the body.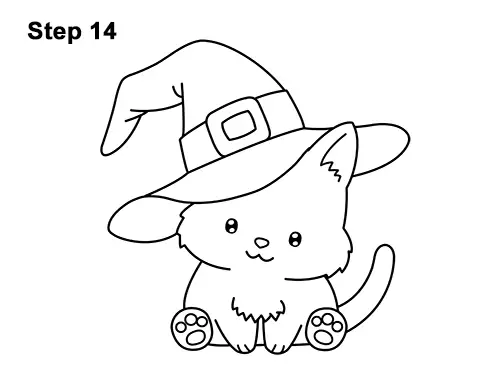 Step 14: Using a pen or marker, carefully go over the lines to make your witch cat cartoon drawing permanent. After inking, get rid of every pencil mark with an eraser.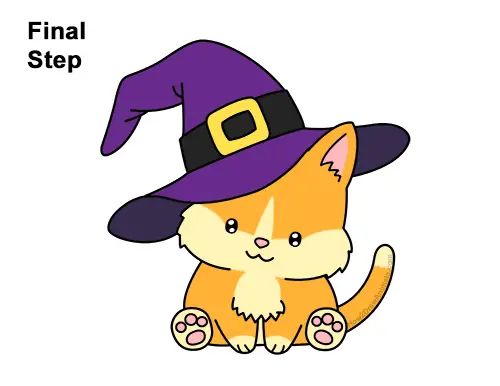 Final Step: Color your Halloween cat drawing using color pencils, markers or crayons! Use purple for the hat. Use dark blue for the underside of the hat. Color the band black and the buckle yellow. Use pink for the ear, nose and padding on the feet. You can stop here for a white cat. Color the body orange except for the lower part of the head, the chest and the paws. Use yellow for the rest of the body. You can also color your Halloween cat black! Don't forget to pause the video to draw at your own pace.
Thanks for visiting! Subscribe to the How2DrawAnimals YouTube Channel for a new tutorial every week.

To learn how to draw popular cartoon characters, visit EasyDrawingTutorials.com.
RELATED TUTORIALS