Page 4 of 4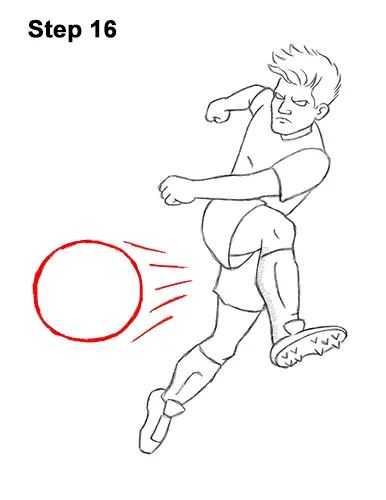 Step 16: To the left, add the soccer ball by first making four small marks to determine the width and length. Then connect the marks using curved lines to complete the circle. On the right, draw a few lines for speed lines. If you're struggling to draw the circle, just trace the outer rim of a circular object like a coin or a bottle cap.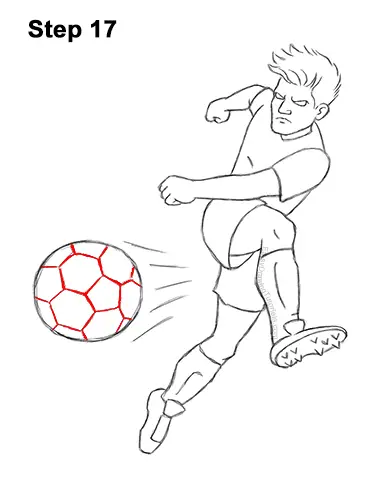 Step 17: Draw the classic soccer ball pattern using a series of geometric shapes. The pattern consists of a few hexagons and pentagons connected by their sides. The shapes closer to the edges aren't completely visible, so they'll look like triangles. If you're struggling with the soccer ball pattern, you can skip this step entirely and just have a blank ball.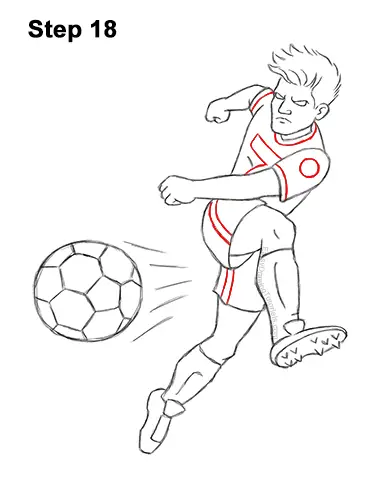 Step 18 (optional): Draw a bit more detail throughout the athlete's uniform. Add a number across the chest. Most of the number will be blocked by the arm, so only draw the top. You can add details like bands at the ends of the sleeves and a circle on the shoulder. You can add a stripe on the side of the soccer player's shorts using two curved lines. If you'd like, you can look up your favorite club or national team and try to duplicate its design on your drawing.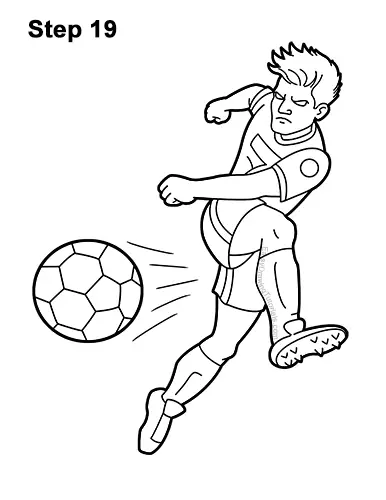 Step 19: Using a pen or marker, carefully draw over the lines to make soccer player drawing permanent.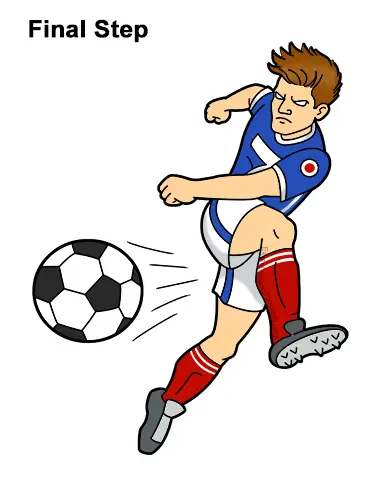 Final Step: Color your soccer player drawing any way you'd like using color pencils, markers or even crayons! For this look, use brown for the hair and peach for the skin. If you don't have peach, use light brown or yellow-orange. Use blue for the main part of the soccer player's jersey and the stripes on the shorts. You can also color your drawing using your favorite club or national team's colors instead. Use red for the socks but leave a couple of sections blank at the tops for stripes. Use dark gray for the main part of the athlete's shoes and black for the patches on the soccer ball. Use light gray for the rest of the shoes and for shadows. Don't forget to pause the video to draw at your own pace.
Thanks for visiting! Subscribe to the EasyDrawingTutorials YouTube Channel for a new tutorial every Sunday.

To learn how to draw animals, visit How2DrawAnimals.com.
RELATED TUTORIALS