Page 4 of 4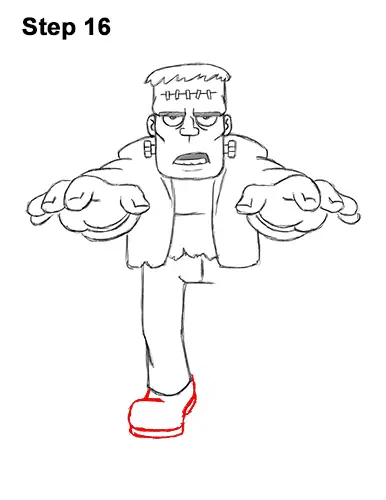 Step 16: Below Frankenstein's monster's pant leg, draw the blocky tip of the boot. The back of the shoe should be thinner as he steps forward. Add a line at the bottom for the sole.
Step 17: Draw another thin, long shape on the right side for Frankenstein's monster's other leg. This leg should be a bit shorter than the one on the left. Notice how it bends in the middle too.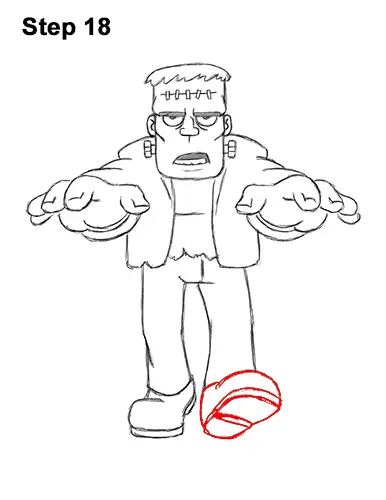 Step 18: At the bottom, draw a curved line for the tip of the monster's boot. Below that, add an angled line for the shape of the boot stepping forward. Add the sole of the shoe as a curved line inside the shape. Add a line through the middle of the sole for the heel. Add a line near the tip to make the sole thicker. Notice how the curved tip of the boot overlaps the pant's cuff. This emphasizes the step forward.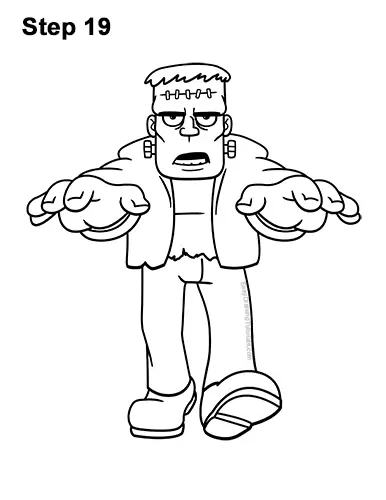 Step 19: Using a pen or marker, carefully go over the lines to make your Frankenstein's monster drawing permanent. After inking, get rid of every pencil mark with an eraser.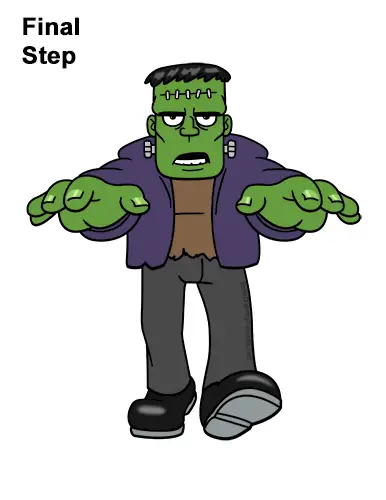 Final Step: Color your Frankenstein's monster drawing using color pencils, markers or crayons! Use dark green for the skin. Color the coat purple and the pants gray. Color the shirt brown and the shoes and hair black. Leave a small section on the shoes and hair blank for shine. Use gray for the bolts, stitches and soles of the boots. Don't forget to pause the video to draw at your own pace.
Thanks for visiting! Subscribe to the EasyDrawingTutorials YouTube Channel for a new tutorial every Sunday.

To learn how to draw animals, visit How2DrawAnimals.com.
RELATED TUTORIALS