Page 4 of 4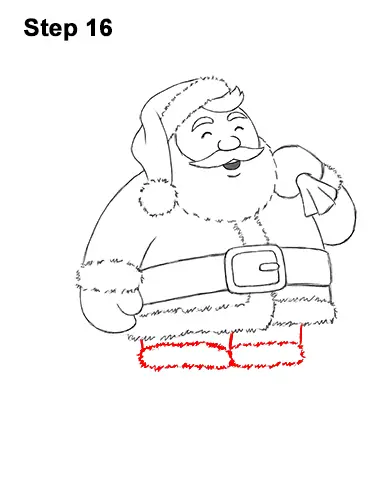 Step 16: Below the coat, draw two more thin shapes made up of short strokes for each leg of the pants. If you want your Santa to be taller, draw the short, vertical lines above the pant cuffs longer. Place the legs slightly off to the left instead of right in the middle.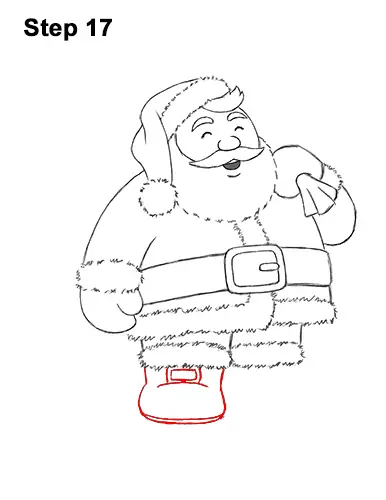 Step 17: Add the first boot by drawing a couple of wavy lines on the left side. Curve the bottom edge and add an extra line for the boot's sole. Add a curved line inside for the front of the boot and a rectangle- like shape on top for the buckle.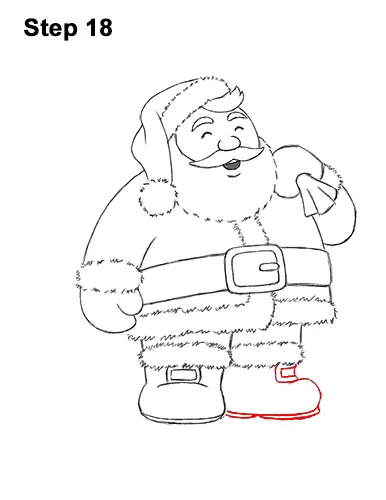 Step 18: Draw a curved line on the right side so that the second boot faces sideways. Add a horizontal line for the bottom and draw the heel and sole too. Draw a square- like shape at the top for the boot buckle.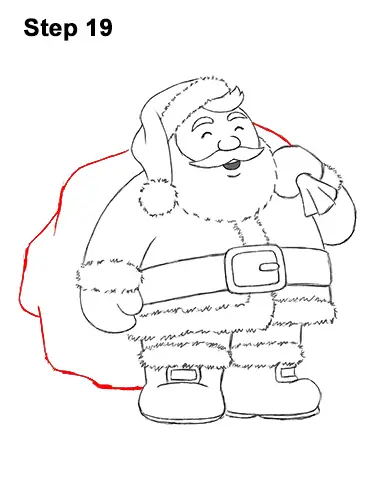 Step 19: Draw a short, curved line above the hand on the right for the first part of the toy sack. On the left side of the body, draw a series of lines for the toy sack hanging over his back. Curve and angle the lines to represent toys inside the sack.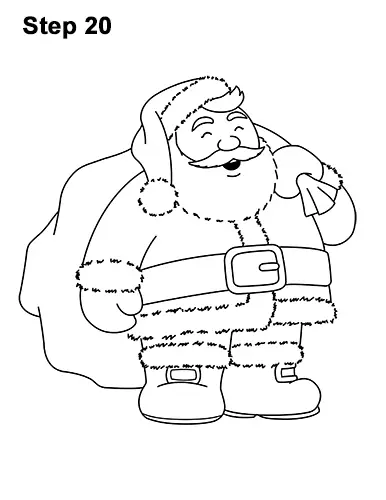 Step 20: Using a pen or marker, carefully go over the lines to make your drawing permanent. After inking, get rid of every pencil mark with an eraser.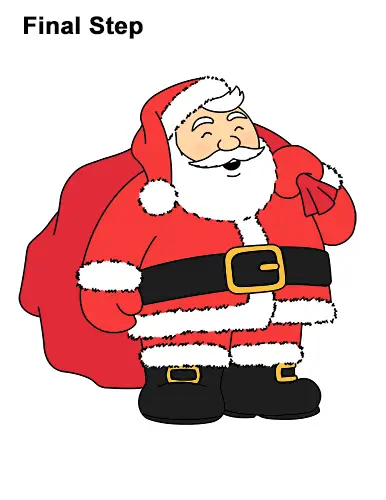 Final Step: Color your drawing any way you want using color pencils, markers or even crayons! Use red for the suit (except the fluffy parts) and the toy sack. Color lightly at first, then gradually go darker. Color the belt and the boots black. Use yellow for the buckles and peach for the face. Don't forget to pause the video to draw at your own pace.
Thanks for visiting! Subscribe to the EasyDrawingTutorials YouTube Channel for a new tutorial every Sunday.

To learn how to draw animals, visit How2DrawAnimals.com.
RELATED TUTORIALS