Page 4 of 4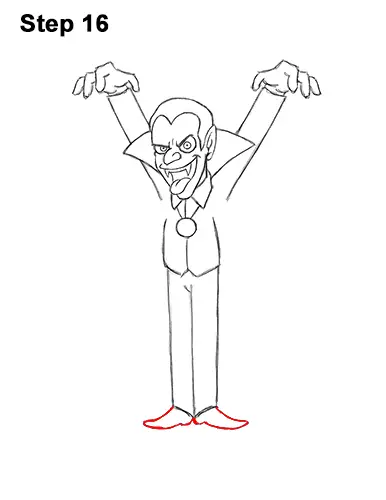 Step 16: Draw the vampire's shoes at the bottom by using a couple of curved lines on each side. Make the tips point outward. Add a bump on the inside of each shoe for the heels.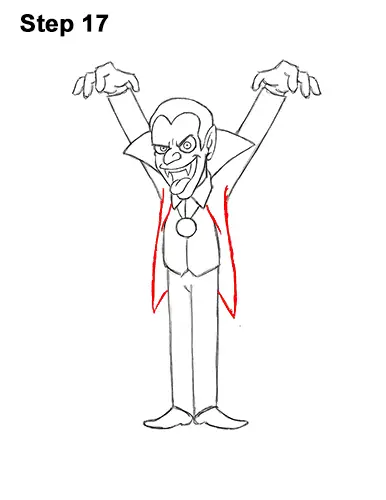 Step 17: Starting at the collar, draw two short lines that connect to the shirt for the first part of the jacket. Now add the outside edge of the vampire's jacket by drawing a long line on either side that angles up at the bottom.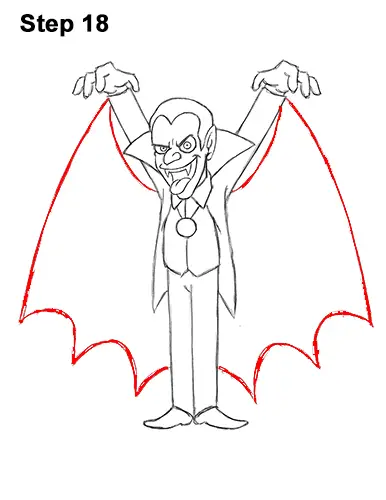 Step 18: Draw a curved line along the bottom of each arm for the top part of the vampire's cape. Now starting at the wrists, draw two long, curved lines for the sides of the cape. You can make these lines as long as you'd like. Draw a series of curved lines toward the legs for the bottom part of the cape. The section where the curved lines meet should form points to resemble bat wings.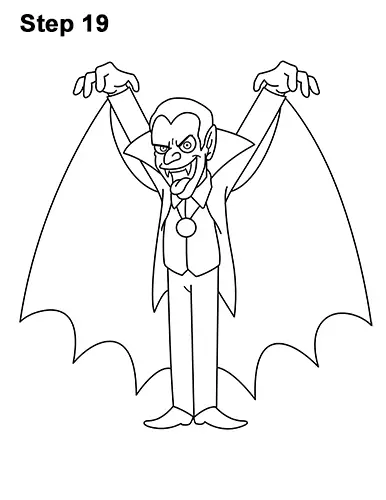 Step 19: Using a pen or marker, carefully go over the lines to make your drawing permanent. After inking, get rid of every pencil mark with an eraser.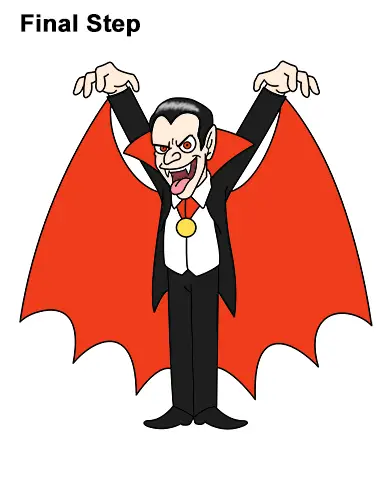 Final Step: Color your drawing any way you want using color pencils, markers or even crayons. For a classic vampire look, use black for the hair, suit and shoes but leave a squiggly section on the hair blank for shine. Use peach lightly for the skin. Vampires are supposed to be pale, so you can leave it blank too. Use red for the cape, the medallion's strap and the eyes. Use yellow for the medallion, brown for the inside of the mouth and pink for the tongue.
Thanks for visiting! Subscribe to the EasyDrawingTutorials YouTube Channel for a new tutorial every Sunday.

To learn how to draw animals, visit How2DrawAnimals.com.
RELATED TUTORIALS