Page 3 of 5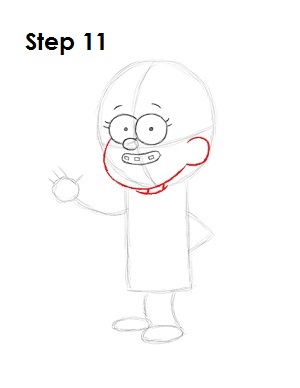 Step 11: Use the original circle shape as a guide to draw Mabel Pines' face. The edge on the left sticks out a little to form her cheek. Darken the C-shaped line on the right side of her face for her ear. Draw two tiny lines below Mabel Pines' face for her neck and a long curved line under the neck for the collar of her sweater.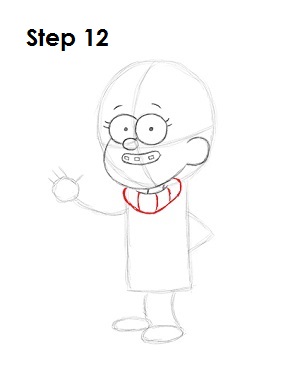 Step 12: Draw the turtleneck collar of Mabel Pines' sweater under the neck. First draw a long curved line that encompasses the neck, then draw three small lines inside for detail.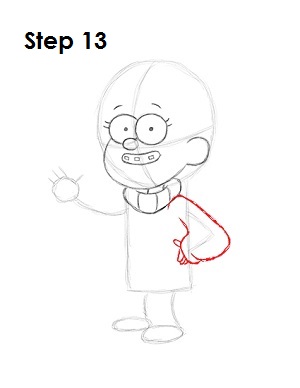 Step 13: Draw Mabel Pines' arm on the right side by using the initial line as a guide. Follow the path of the line as you make the sleeve of the sweater thicker. Draw a few curved lines at the end of the sleeve for her fingers and thumb.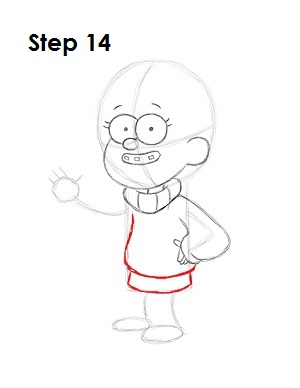 Step 14: Use the rectangle as a guide to draw Mabel Pines' loose sweater and her skirt at the bottom.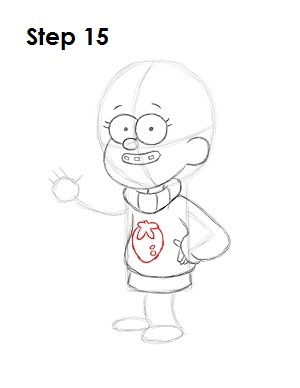 Step 15: Mabel Pines has a lot of sweaters with different designs on them. Pick your favorite design and draw it in the middle of the sweater. Use the image above as reference to draw her strawberry sweater.