Page 2 of 4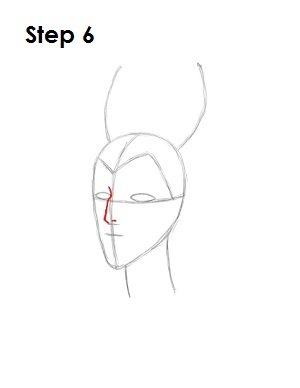 Step 6: Draw Maleficent's nose on the left side of the vertical construction line, and make it graze the left eye. The nose is just an angled line that sits on top of the smallest of the horizontal lines. Draw a small slit on the right to indicate Maleficent's nostril.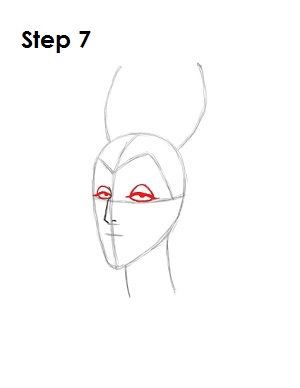 Step 7: Darken the shape of Maleficent's eyes and draw a thicker line above each eye to create her eyelashes. Inside each eye, draw a small circle and shade it in as her pupil. Draw an arc above each of Maleficent's eyes for her eyelids.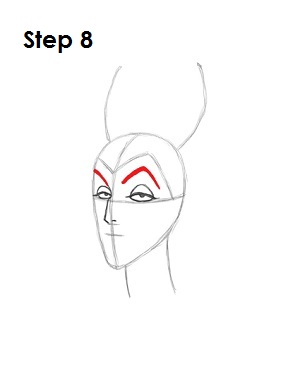 Step 8: Draw Maleficent's eyebrows above her eyes. Use the line on her forehead as a guide for the angle and shape of the eyebrows, which are basically just thick lines.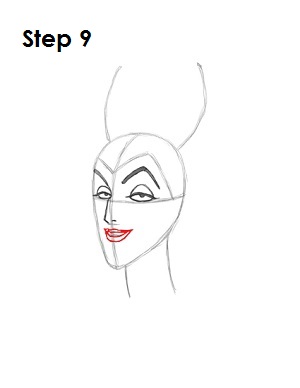 Step 9: Use the lowest of the horizontal construction lines to help you place Maleficent's mouth. Her upper lip is thin and is drawn with a wavy line. Maleficent's lower lip is thicker and is drawn with two curved lines.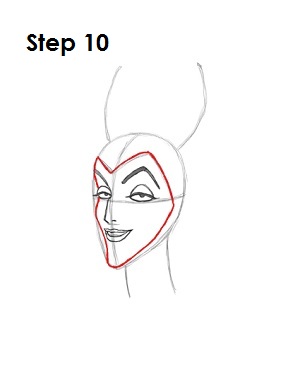 Step 10: Draw the outline of Maleficent's face by using the line on her forehead and the egg shape as guides. Be sure to dip the line on the left side in toward her eye a bit to form her cheekbone and give her a long pointy chin.