Page 3 of 4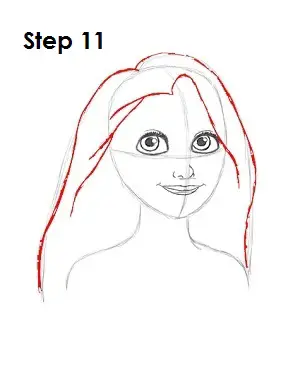 Step 11: Rapunzel's long hair is tricky, so it's divided into two parts. Using the initial lines as guides, draw the top and sides of her hair and make the lines a bit wavier. Now draw the part of Rapunzel's hair that's on her forehead by using curved lines. Notice that the right side of Rapunzel's hair grazes her eye slightly. Use the image above for further reference.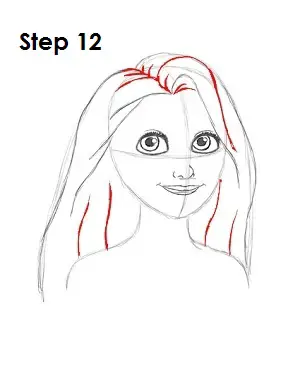 Step 12: Give Rapunzel's hair more detail by drawing more lines throughout it to represent the different layers of her locks.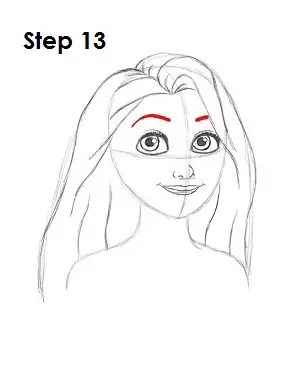 Step 13: Draw a curved shape above each eye to give Rapunzel her eyebrows. Her hair hides the right eyebrow, so only draw a portion of it.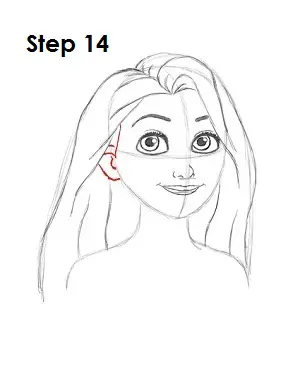 Step 14: On the left side, draw a few more lines to represent the side of Rapunzel's hair and a couple of curved lines that are attached to her head for her ear.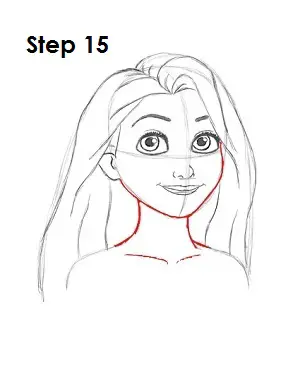 Step 15: Darken Rapunzel's neck and draw a couple of curved lines below it to represent her collarbone.